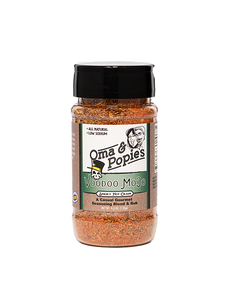 Oma & Popie's
VooDoo MoJo-Hot Smoky Cajun
Regular price
$9.99
$0.00
Unit price
per
It's time to head down to the Bayou with this hot smoky blend of spices that packs a true Cajun punch with full-bodied Creole flavor.

Our handcrafted sugar-free & low sodium (30mg) all natural seasoning will turn your next meal into a Cajun cuisine you soon won't forget!  

Sprinkle it liberally on grilled chicken, turkey, ribs, tilapia, seafood and chicken wings. For even more punch use it as a rub! When used as a rub we use 1 tablespoon of seasoning per pound of meat

As with all of our blends there are no anti-caking agents, colorings, flavorings, extracts or MSG!
---